Best Sturgeon Fishing Experience in Vancouver, BC – Guaranteed!
Big game isn't just on land – it's swimming in the scenic Fraser river of Vancouver, too. At Sturgeon Hunter, we specialize in finding and catching the biggest fish in North America: White Sturgeon. We employ the most knowledgeable, professional Sturgeon fishing guides in Vancouver, BC. With nearly two decades of experience in the fishing industry, Sturgeon Hunter knows where the fish are; people who want to catch the big ones come to us.

Expert Sturgeon Fishing Guides in Vancouver, BC
Sturgeon Hunter's expert sturgeon fishing guides are intimately familiar with Vancouver's Fraser river. We're committed to taking you on a Sturgeon fishing adventure you'll never forget.
Sturgeon Fishing in Chilliwack
Chilliwack is home on the Fraser River. At Sturgeon Hunter, we're the resident experts on Sturgeon fishing in Chilliwack; feel free to give us a call at (604) 612-7850. We'll be happy to tell you all about Sturgeon fishing in Chilliwack, what to expect on our Sturgeon fishing charters and help you find accommodations for your trip.
Sturgeon Fishing in Mission
Mission sits on the north bank of the Fraser River, which means it's the perfect location for Sturgeon fishing. Sturgeon Fishing in Mission begins in March and runs through November – so you have a large window in which to plan your sturgeon fishing adventure. Call us at (604) 612-7850 or send us an email to learn more about Sturgeon fishing in Mission.
Sturgeon Fishing in Vancouver: What to Expect
Since Sturgeon fishing is open from March through November, you'll need to plan accordingly for the weather. Our heated and covered aluminum jet boats will keep you comfortable during inclement weather.
Most of the fish we catch while Sturgeon fishing in Chilliwack and Mission range from four to seven feet in length – but you never know when a bigger fish will come along. In fact, each season, we catch many fish in the seven- to eleven -foot range, and many of them weigh upwards of 800 pounds.
When you go Sturgeon fishing in Vancouver on Sturgeon Hunter charter, we'll provide top-quality bait and tackle to each guest in your party. We're happy to work with everyone, from novice to expert, because Sturgeon fishing in Vancouver is our passion. Sturgeon Hunter charters can accommodate small families, large corporate parties, and everything in between.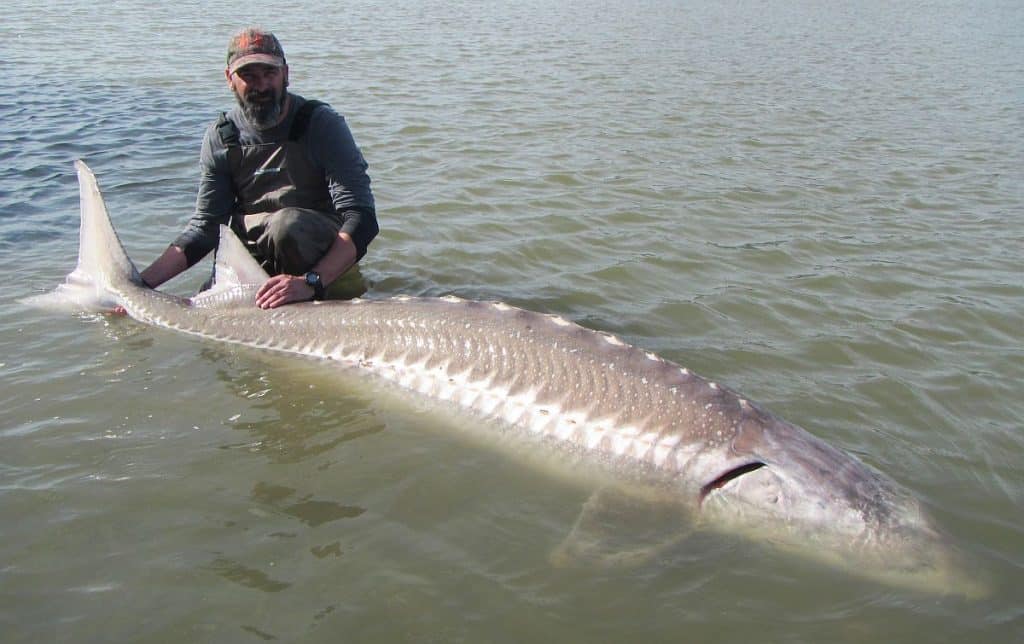 Let's Go Sturgeon Fishing in Vancouver Together!
When you're ready to book your Vancouver Sturgeon fishing adventure, call us at (604) 612-7850 or send us an email. We'd love to tell you about Sturgeon fishing in Chilliwack, Sturgeon fishing in Mission and, in general, Sturgeon fishing in Vancouver. Get ready for the experience of a lifetime!